Interest rates are up to 7%. Home prices are still high. Home sales are dropping. The question on everyone's minds: are we entering or in a recession?
We don't have a crystal ball that shows us exactly what the economy will look like in the coming months. What we can do is break down the data and show you how to win in a down market.
Crunching the Numbers
What's Happening Now
We'll start with the bad.
In October 2022, interest rates hit 7%. That's a sharp contrast to 2020 and 2021, where interest rates sat at about 2.7%. And, while home prices are still sky-high, existing home sales are plummeting.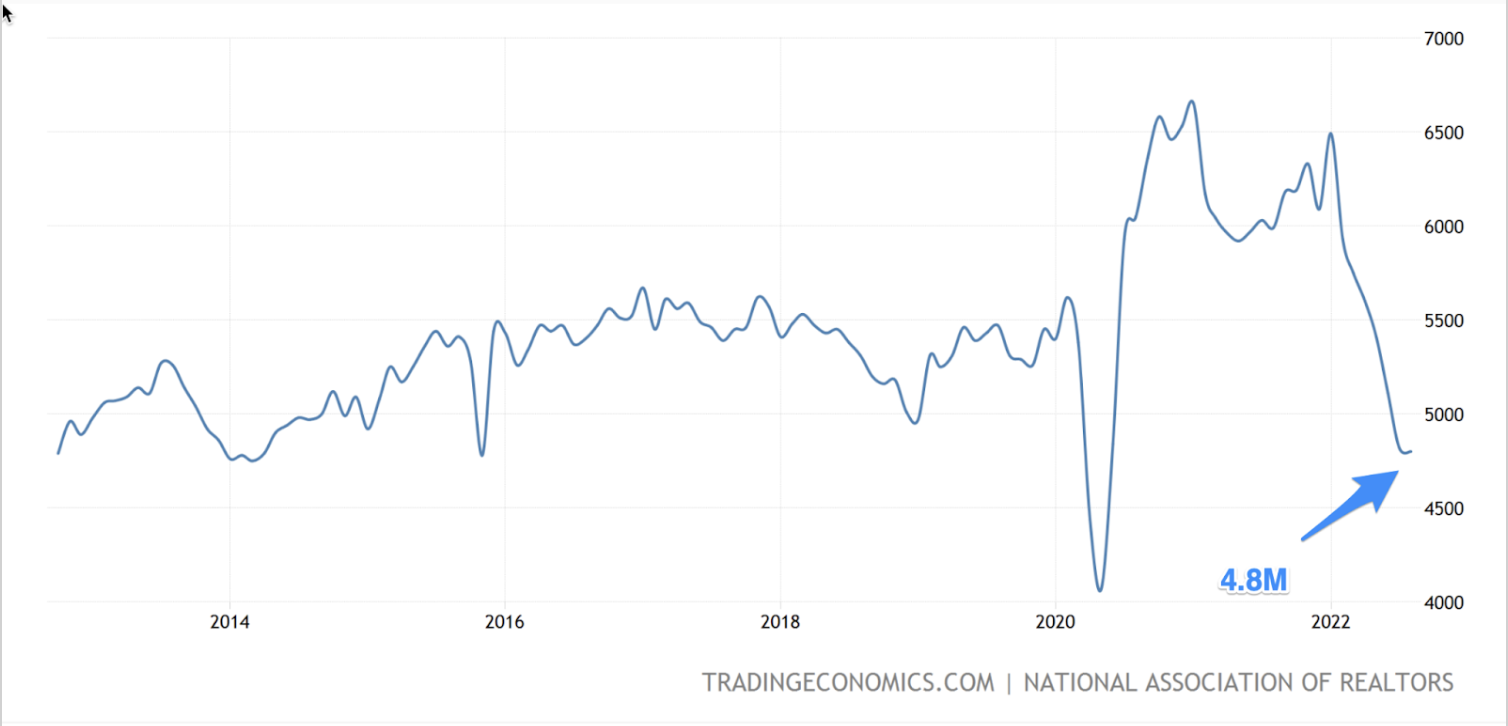 Above: Existing Home Sales from 2012-2022 from Trading Economics
What does this mean for you? If home prices are high, home sales are down, and interest rates continue to rise, it probably means fewer home inspections.
If you've been paying attention you're probably worried for your business. But now, for the good.
We're still significantly below historical interest rates (in the 1980s, interest rates peaked at over 18%). We know that in the 80s and 90s when interest rates were high, people still bought homes. During the same period, about 3.5 million homes were sold annually.
The bottom line: homes will still sell, just more slowly.
Lessons from Recessions Past
Let's look at the past and understand why interest rates are high. Historically, the Fed raises interest rates to curb inflation. That's what is happening now and it seems to be working.
During and after recessions, we see interest rates go down. And when rates go down, home sales go up. Eventually, rates will go down and that's when the market will recover. The biggest question is when (and don't worry, we'll give you our best guess in the next section).
Looking at 2023
To understand the scale of a recession, we also need to understand other factors that affect the market as a whole, like the unemployment rate and GDP growth.
In 2022, the unemployment rate is at 3%. People still have jobs. There is still pent-up demand. These are all good indicators that this recession will likely not be long and drawn out like the Great Financial Recession.
Home inspectors should understand that for home sales to go up, prices will need to come down. The good news is that the Case-Schiller index has dropped for the first time in a while. Sellers will likely adjust their expectations and home sales will begin to regulate again.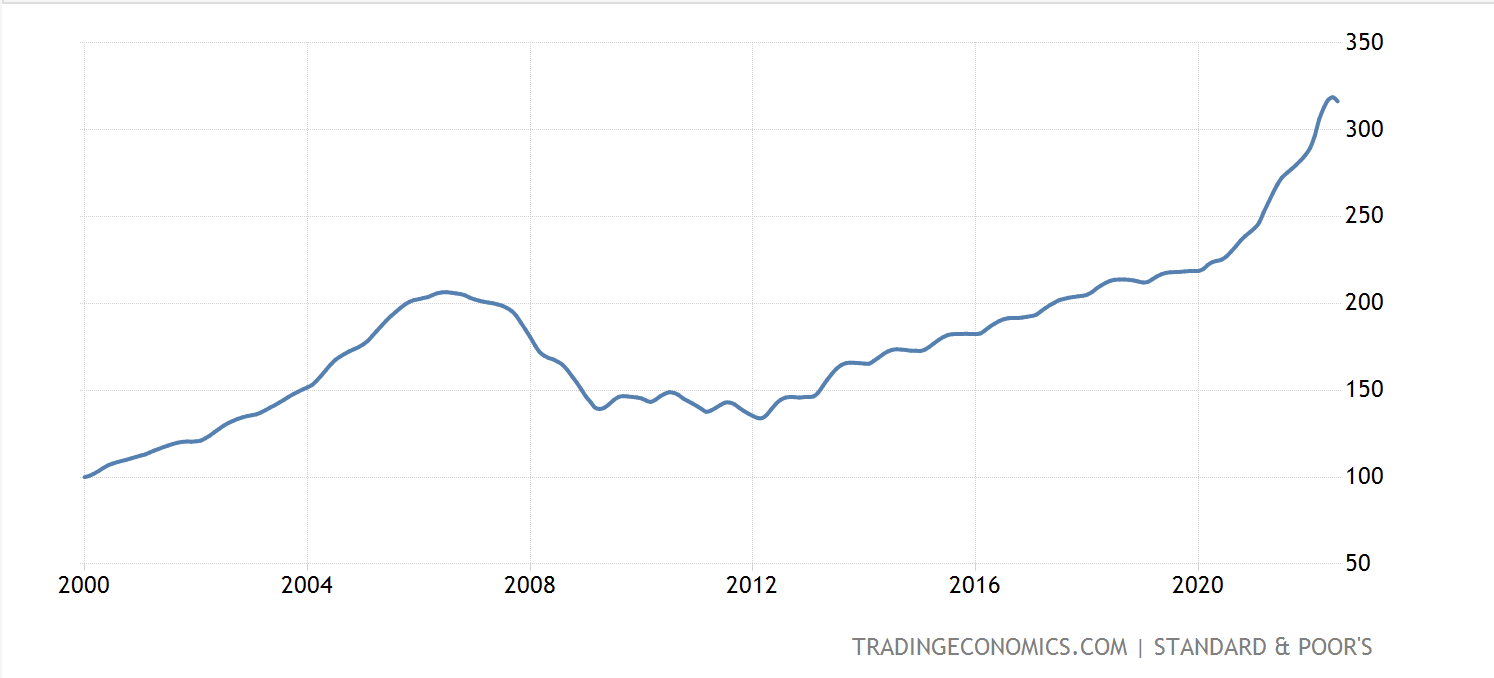 Above: The Case-Schiller Index from 2000-2022 from Trading Economics
Looking forward to 2023, home inspectors should prepare for business as usual. And the good thing about a down market? It's the best time to build your business for a successful future.
Tips for Winning in a Down Market
Believe it or not, you can come out of a recession stronger than ever. From Disney to IBM to Airbnb, many major companies were built in a down market.
Looking at the positives: with fewer home inspection requests as home sales drop, home inspectors can take the time to focus on the aspects of their businesses that usually go by the wayside.
1. Focus on Marketing
Marketing is important when times are good; it's even more vital when times are tough.
When home sales slow, it's especially important to make sure all eyes are on your home inspection business. By marketing in a recession, you can make sure your phone will be the first to ring when the market is healthy.
For marketing tips, check our guide for how to market your home inspection business.
2. Increase ARPI
In a down market, you'll probably get fewer home inspections. Your initial instinct may be to lower your prices to appeal to buyers looking to save in the world of increasing interest rates and sky-high home costs.
We're here to tell you why you should actually do the opposite.
You should never lower your prices. And a down market might actually be the best time to make sure you're getting the most value for every inspection you do. Increasing your average revenue per inspection (ARPI) will make each home inspection count for more. But how do you justify raising prices?
Provide More Value
Take a lesson from Airbnb and give customers an 11-star experience. The best way you can justify charging higher prices is by providing more value.
If you can be the best, most thorough, and most personable inspector in your area, you can legitimize charging more for a single inspection.
Having a good reputation is always a must. In a down market with fewer home sales, having a good reputation and providing high-quality service can make or break your business.
Add Services
It pays to be a one-stop shop. If you can't justify raising the price for a residential home inspection alone, expand your repertoire beyond what's covered in a traditional home inspection.
Inspectors who can offer additional services like radon testing, sewer scope, mold or termite inspections, or wind mitigation can expand their business and therefore their earnings.
3. Invest in Relationships with Quality Agents
As a home inspector, you know best that not all agents are created equal. In a down market, it's important to focus on relationships with quality realtors in your area.
Pay attention to which agents are still marketing, posting on social, and staying informed on the current market by attending Chamber of Commerce or realtor association meetings.
Chances are, those are the agents you should invest in.
4. Revamp Your Website
We always say it: your website is your modern-day business card.
38% of people will stop engaging with your website if the content or layout is unattractive. In other words, with a poor website, you'll lose out on over one-third of your potential customers.
We've put together some tips to help you build the best home inspection website. A quality website has a short domain name, clearly outlines the services you offer, is SEO friendly, and of course, has killer content.
Feel intimidated by creating a website? We can help. We build conversion-optimized, professional websites for home inspectors.
5. Get Personal
You should never underestimate the power of making personal connections. Building relationships with realtors and home buyers and leveraging their positive experiences is the most valuable aspect of building a strong and steady business.
Ask for Reviews
One of the best ways to win business is by providing customers with social proof. At the end of each inspection, ask for a review. And a surefire way to get good reviews is to personally connect with the people you're dealing with.
Build Relationships
What does building a good relationship look like? Usually, it's genuine human connection. Ask realtors and homebuyers about their families, their interests, their hobbies, and their goals. Likewise, open up about yourself a bit—vulnerability and humanity go a long way.
You should also engage with realtors on social media; commenting on their posts will keep your home inspection business at the top of their minds and it's a win for your brand impressions.
Interested in more industry insights from Spectora?
Check out our predictions for experienced home inspectors in 2023.