As a home inspector trying to grow your non-referral business, local SEO is the most important aspect of online marketing. Google has prioritized local results in recent years to allow customers to find you directly.
This post will give you the 3 main areas that impact local search results the most.
First let's recap:
Local Search (also referred to as Local SEO) refers to the results shown by Google or Bing where they believe the person searching has "local intent" - meaning they used geographically related keywords or tend to click on local service providers.
A search for "home inspector" or "mold testing" always results in the "local 3-pack".
Here is an Example: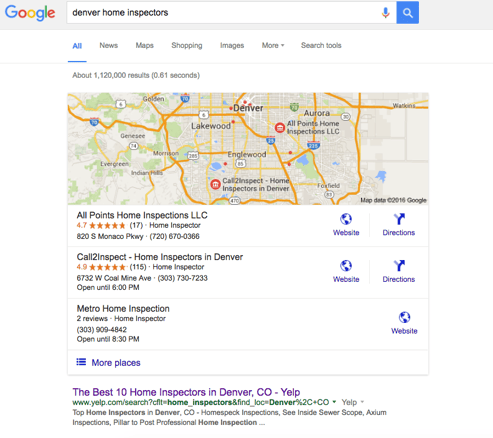 This is where you want to be!
Before We Start
These 3 areas are not the only aspects you should focus on. They are the most important to prioritize for home inspectors and their SEO.
You will maximize the benefit from these activities by also paying attention to other foundational areas of SEO & online marketing:
Technical basics like making sure your site is being crawled & indexed
Site speed and mobile-friendliness
On-Page basics like including your NAP, service areas, business name & keywords
Optimizing (but not over-optimizing!) your site's title tags, headers & meta descriptions with keywords/locations
Producing quality content to establish authority in the home inspection industry
Having a strategy in place to secure locally relevant links pointing to your site
Claiming & Verifying Your Google My Business Page
Without this, Google has no starting point for knowing your business's information.
If you know you've claimed & verified your listing, make sure to take note of the exact wording of your business & address & skip to the next section.
If you're unsure, go to the Google My Business home page and click "Start Now".
You'll see a prompt to log in with your Google account (if you don't have one, you'll need to create one). Make sure it's the Google account you registered your business with.
You'll be presented with a map and a search box. Start typing in your business name.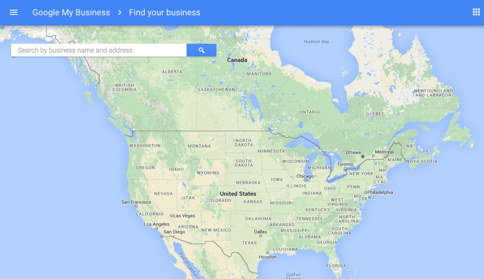 For example, I started to type Jim's Inspection Services, and I get a list of potential businesses to claim.
If you see your business, select it. If not, click on "None of these match" and enter in your business information.
*Remember, pay close attention to using consistent wording of your business name.
After you click on your business name, you'll see a prompt asking you if you're authorized to manage this business.
Check the box and hit continue to "claim your business".
Verification of Your Business
Google will ask you how you want to verify your business to ensure you are the actual owner. Most businesses will only have the option to verify by postcard, which usually arrives in 5-10 days.
Once you receive the postcard with the verification code on it, you'll go to the Google My Business account hub, choose the business you're verifying and click "Verify now".
You will also have the option to continue and verify later if you want to update your business information.
We recommend verifying sooner rather than later, so you can move on to increasing your local citations.
Google has a help page with videos that walks you through this process.
Local Citations & Business Listings
Local citations might be the most important aspect of Local SEO that is overlooked.
What Are Citations & Why Are They Important?
A citation is an online mention or reference to your business that includes the official business name, address & phone number (often known as "NAP"). Examples could be a local chamber of commerce or business association, a local blog or large local data aggregators like Infogroup.
Citation are a key piece of Google & Bing's ranking algorithms. They become even more important in an industry like home inspection, where the overall online presence is low.
Google & Bing have to rely more on information from around the internet, usually in the form of citations & business listings.
How Do I Get Citations?
The good ole fashioned way - You use a list like this and find the sites and register or sign up for a listing. This is very time consuming and many large sites charge for listing your business.
The second is to outsource this. Some companies have partnerships with the large data aggregators (they send info to local search engines) and some will do it manually. The benefit to this is that services like this will also monitor your citations and listings to eliminate duplicates and make changes if your business address changes.
How Are Business Listings Different From Citations?
A business listing is a type of citation, also referred to as "structured citations". Think Yellowpages, Yelp, Foursquare or industry sites like Thumbtack & HomeAdvisor.
Having a profile on these sites is important, as they are well-established and well-indexed domains. Consistent NAPs here help search engines have a higher level of trust in your business contact info, thus making them more likely to rank you!
You may already have accounts with these sites, but you'll want to make sure to have a presence on all the most credible & well-established ones.
The bottom line is that local citations & listings can drastically improve your local search ranking and drive more client direct business.
Local Reviews
Google reviews are a key input to their local SEO algorithm. They also increase click-through rate when customers are looking at search results.
But asking for them is hard, we get it. That's why we help with that.
This is an often ignored aspect by many home inspectors, but the ones that are paying attention to it are reaping the benefits of more non-agent referred business.
Remember my first screenshot above? Think those first 2 inspector's are getting business from being there? Especially when you consider that mid-size cities get hundreds of home inspector related searches a month.
Here are some tips on asking customers for reviews:
Create a page on your site that has links to review sites. Link to it from other pages and encourage customers to go there.
If you're emailing them, make sure to include how important reviews are to your business and a link that takes them directly to where they leave the review.

Put that same link in your email signature

If you're calling them, make sure to articulate just how important quality reviews are to maintaining & growing your business. Follow up by sending them the link where they can submit the review.
Don't be shy with following up. People are busy and often put off a task like this, no matter how great you were.
Summary
Create, Claim & Verify your Google My Business listing and fill it out with the proper category & information.
Have a plan to create & manage citations so Google has confidence in ranking you.
Create a system to collect customer reviews.
If you're in this business for the long-term, make sure you nail these 3 basic pillars of Local SEO. This will maximize the rest of your online marketing efforts, and get you in front of more potential clients who are searching for you!