It's normal to feel a little discomfort with the unknowns that could be found during a home inspection. But keep in mind it's one of the most important aspects of your home buying process.
The inspection may reveal red flags you didn't see during the initial showing. It can potentially save you hundreds or thousands of dollars in repairs from the seller. It can also be a great opportunity to learn the inner workings of the place you will call home.
The home inspection process can be overwhelming, leaving many buyers not sure what to expect. Here is what you should know from the moment you go under contract:
Finding a Home Inspector
Most real estate agents will refer you to a couple home inspector's they've worked with before.
If you trust your real estate agent to make that decision for you, contact them as soon as possible - good inspectors can be booked weeks in advance. The home inspector will want to know:
The address of the home
Approximate square footage
How many bedrooms & bathrooms
Your agent will let you know which days and times work best to schedule the home inspection. Most sellers will accommodate what works well for you and your home inspector.
If you feel more comfortable researching the names you're given, make sure to:
Google their business name - Read reviews and testimonials.
Take a look at their website - This will give you a feel for their online presence & professionalism, list any licenses/certifications/experience, and possibly discuss pricing.
Look at a sample report - Most inspectors link to this on their site. The report should be visual, easy to understand, easy to navigate, and give you next steps on costs and who to contact.
Check for add-on services - You might want thermal imaging to detect energy leaks, radon, or need mold inspection.
Check for licenses & certifications - Each state has different standards, but most inspectors will be a part of NACHI or ASHI. These associations provide training and on-going education.
Give them a call - Get a feel for how friendly and professional they are
If you like doing your own research from scratch, you can find inspectors with a google search for "home inspector [your city]". This will return a list of local results.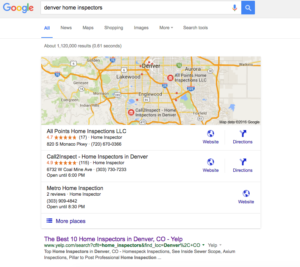 This list will show you highly-reviewed local home inspectors. If they are listed here, this means they actively market and invest in their business.
Inspection Day
This is often only the second time you'll see your potential new home. Many buyers will bring measuring tape so they can start visually organizing rooms and space.
Your agent and inspector should meet you out front to go over the general flow of an inspection.
Learning About your Home
How often will you have a professional home inspector, who has seen hundreds or thousands of homes, by your side to answer questions? Ask lots of questions.
In between your inspector documenting what he/she finds, ask about what's normal for the area and how your home compares. Ask questions about how your furnace works, how much insulation is recommended, and what particular fixes might cost. Home inspectors often have backgrounds in construction or a home remodeling trade, so don't be shy.
Home inspectors usually block off about 2-3 hours for home inspections, so plan on spending that time getting to know as much as you can.
Important areas to learn about include:
HVAC Systems (AC, Furnace)
Water Heater
Plumbing
Roofing
Foundation
Electrical
The Home Inspection Report
Once the inspection is complete, your inspector will let you know when you can expect the finished report. For most inspectors, this is either the same day or the following day.
Ideally, you'll have a good idea what a sample home inspection report will look like from your research. If not, a good home inspection report should be:
Highly visual
Easy to understand
Easy to navigate
Give actionable next steps
Delivered in HTML and PDF format
The report will be overwhelming at first. Keep in mind that all homes, new or old, will have a number of items that require attention. Most of these are very common.
Some of the most common items found on inspection reports include:
HVAC in need of cleaning/servicing
Missing carbon monoxide detectors or smoke alarms
Downspouts not extending far enough from the home
Cracks/settling on walls, foundation or driveways (usually on older homes)
Broken seals on windows
Outlets not having GFCI protection
A variety of smaller plumbing or roofing issues
It's not uncommon to have plenty of items in the "needs attention" category.
Remember, your inspector works for you.
Their job is to point out anything and everything that is or could go wrong. If you have several of these common defects, it doesn't mean the home is a lemon and you should run from the deal. Your home inspector and/or agent will tell you what they think is worth asking the seller to correct. For major issues, only you can decide if it's worth walking away from the deal or living with it.
Inspection Objection
The inspection objection is a document that your agent will send to the listing agent before the pre-determined deadline. This outlines what you request that the seller remedy before closing. This is part of the inspection contingency clause in your contract.
The fixes the seller will remedy is dictated by the supply & demand of your local market. Your agent should be able to guide you on about how much you can expect the seller to pay for. The number of items you can get fixed or paid for typically goes up in a buyer's market and down in a seller's market.
Most sellers don't want to deal with hiring contractors. Especially when preparing for a move. Sellers will often give money back to address defects in the form of seller concessions. This gets credited to you at closing, along with other credits and debits that appear on the final settlement statement.
However, each transaction is unique. Seller and buyer circumstances are always the final determining factor in what gets paid for or fixed by the seller.
Next Steps
If the seller agrees to hire qualified contractors to remedy the issues, then make sure you scheduled a follow-up inspection or final walk-through to ensure the work was done according to the Inspection Resolution document.
If the seller agrees to credit you a dollar amount, then you'll want to work on getting bids for the repairs. You can research each item separately, or use your Spectora home inspection report to find qualified contractors.
Summary
Read reviews and look at sample reports of prospective inspectors
Don't be afraid to ask lots of questions during the inspection
There will be many items that "need attention" on your report - that's normal
You local market's supply & demand will usually determine how much the seller will pay for
Find qualified contractors through your home inspection report to start getting quotes