You probably didn't become a home inspector to be a marketer.
As a business owner though, you'll have to invest some of your time in marketing, and as someone who works in marketing, I know all too well that one newsletter or a single social post can take an entire day of work.
But it doesn't have to be that hard if you have the right toolkit.
Here are the top 10 free tools that will make marketing your home inspection business easier, and up your digital marketing game so you look like a pro to agents and homebuyers alike.
1. Canva
Canva takes the number one spot on this list because it's the tool that makes design novices look like pros.
Canva's free version includes thousands of templates, fonts, and design tools; whether you're making content for Instagram and Facebook, creating a presentation for agents, or designing graphics to make a mass email just that much better, Canva makes it easy to seem like an expert, even if you're not.
Key Features & Benefits
250,000+ free templates for social posts, presentations, etc.
Printable design products, for flyers or posters
Easy "drag and drop" editor for customization
2. Google Analytics
Google Analytics can feel overwhelming, and you might wonder why you need it as a solo inspector or a small multi-inspector company.
Here's why: Google Analytics will give you valuable insight into the people who visit your website. With analytics, you can see where most of your traffic comes from, which pages convert well, and areas of your site that might need more work.
With a quick Google Analytics beginners tutorial, you'll be able to navigate the insights in no time and better understand how people interact with your website.
Of course, to use Google Analytics, you'll need a website. With all the money you'll save by using free marketing tools, it's worth it to invest in a quality website that sets you apart from your competitors.
Key Features & Benefits
Learn about your audience in the "audience" section
Understand where your traffic comes from with the "acquisition" feature
See how each of your pages performs under "behavior" and where you get conversions under "conversions"
3. Grammarly
There's nothing worse than sending an email and realizing a moment too late that you made a typo. Grammarly takes that fear away.
Typos aren't the end of the world, but polished, typo-free writing will make you sound all the more professional in emails to agents, in your blog posts, and in correspondence with homebuyers.
You can get the Grammarly desktop app, or integrate it with your browser; once that's done, it's all free and basically does the work for you.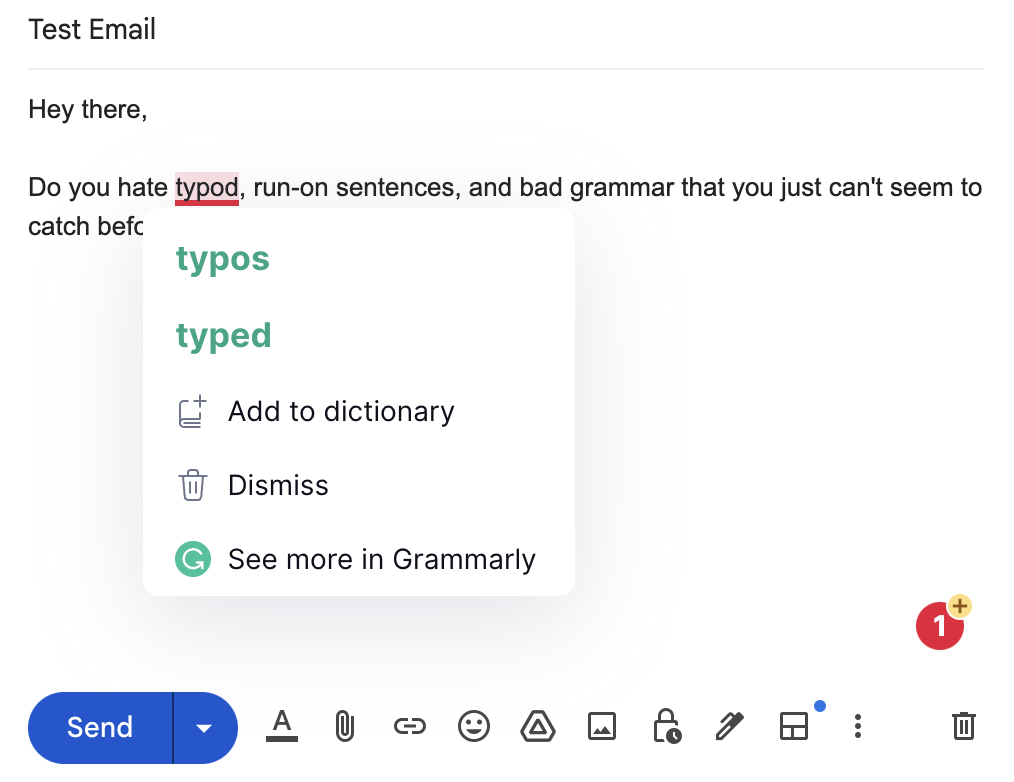 Key Features & Benefits
Grammar and spelling corrections
Tone suggestions and directions
Desktop app for both Windows and Mac
Browser extensions for Chrome, Safari, Firefox, and Edge
4. Beefree.io
The hardest part of marketing as a home inspector is, well, finding the time to focus on marketing, especially when it can take hours to build a mass email that doesn't look that great.
Beefree.io helps you build pro-level emails and landing pages easily. With dozens of templates to choose from, you can make newsletters customized to your brand and impress agents and homebuyers with high-quality, well-designed content.
Key Features & Benefits
Email templates that integrate with common email platforms
Landing page templates
5. Visme
Alright, this one isn't specifically for digital marketing. But it can help you out with agent presentations.
From presentation templates to infographics to charts, Visme has you covered. Although what really matters in a presentation is the info in it, a clean and professional design will set you apart from other inspectors and impress realtors.
Key Features & Benefits
Presentation templates
Infographics, graphs, and Q&A options for slide decks
6. Google My Business
Google My Business is a must for home inspectors.
GMB allows you to appear in Maps and Local Pack listings, makes it easy for people to leave reviews (which will boost your SEO), and it's highly visible, meaning that your business will be highly visible if you're at the top of the rankings.
If you don't have a GMB page, you can set one up here. Once you do, it's relatively low maintenance, but be sure to update with changes to your business hours or location if you make them.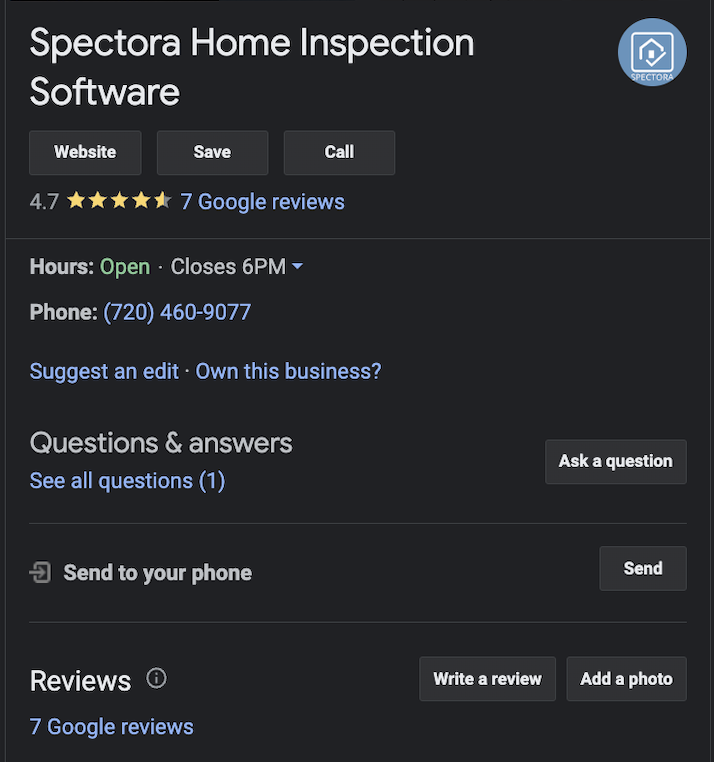 Key Features & Benefits
Maps and Local Pack Listings
Google reviews
7. Tailor Brands Logo Maker
If you're just starting as a home inspector, or if you're thinking of leaving a multi-inspector firm to strike out on your own, you'll need a logo.
While you could pay someone to do this for you, Tailor Brands Logo Maker does it for free.
You'll input details like your business name, a tagline (optional), and your industry. You can then pick the style of logo you like, and select fonts you love. Once the logo is generated, you can edit and customize the design to your liking. Then, click "I'm finished" and you'll get your custom logo. Here's an example that took under 5 minutes: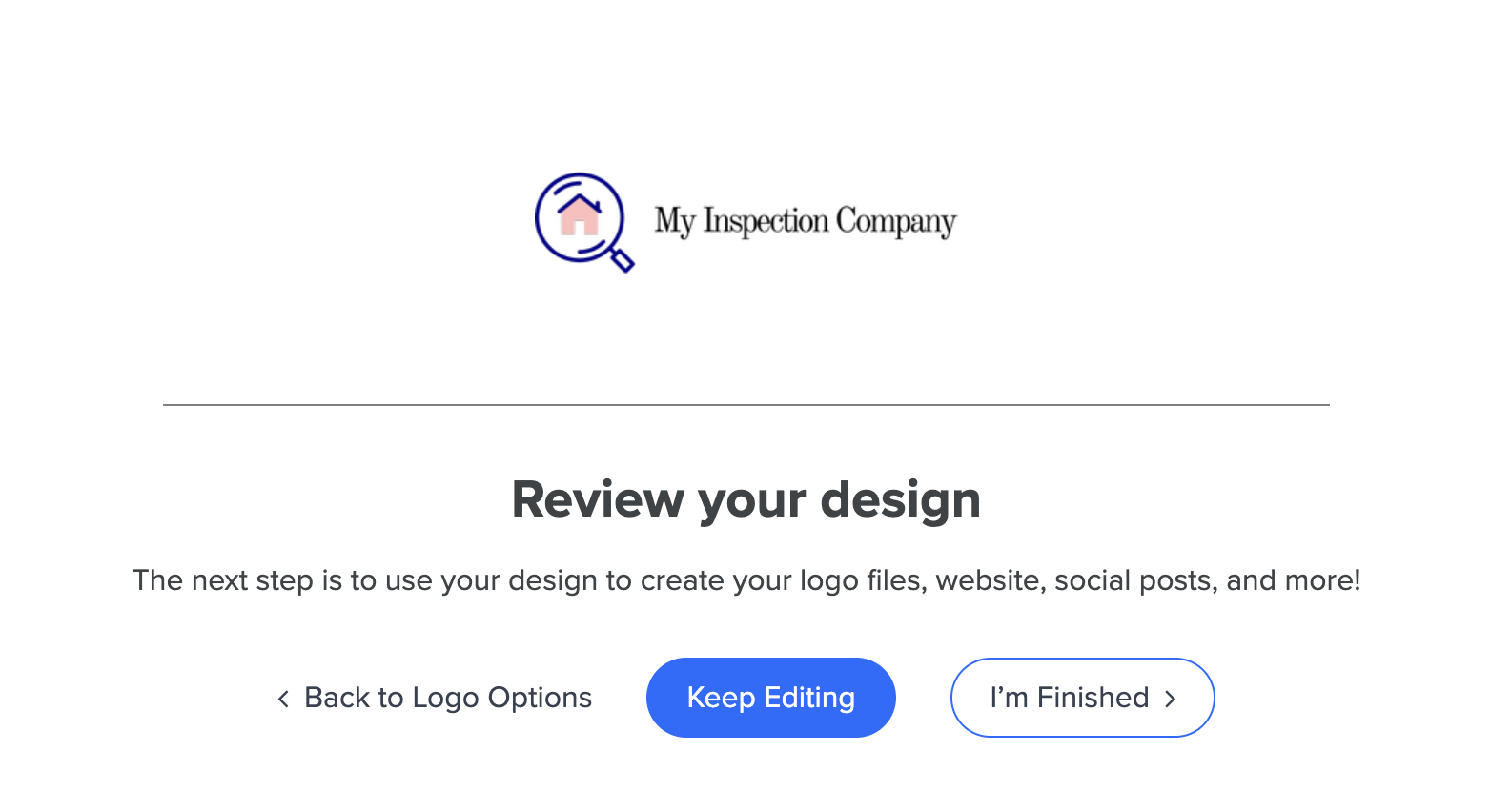 Key Features & Benefits
100s of logo design variations
High-resolution, downloadable logo files
8. Hemingway App
The Hemingway App is very similar to Grammarly but will give you even more feedback on your writing. The tool will tell you if a sentence is hard to read, if you could use a shorter word in place of a longer one, and if you're writing in passive voice, to name a few features.
The only downside to using Hemingway over Grammarly: Hemingway won't integrate with your browser, so you'll have to download the desktop app.
Key Features & Benefits
Advanced feedback on your writing in the desktop app
9. Yoast
Yoast is an SEO plugin for WordPress websites and other content management systems. The best part of Yoast is that it will automate many of the SEO plugins for you, and you don't need to be an SEO expert to use it.
Key Features & Benefits
Keyword density checker


Meta description checker

Link support to show whether you're using too many or too few links on any given page
6. AnswerThePublic
AnswerThePublic is one of the best tools to use when you're stuck on ideas for content. Here's how it works: you search a query, and AnswerThePublic returns the most commonly searched questions segmented into categories like "where", "who", "near", etc.
For example, here are the queries related to "home inspection", but you can specify your local state for more local content ideas.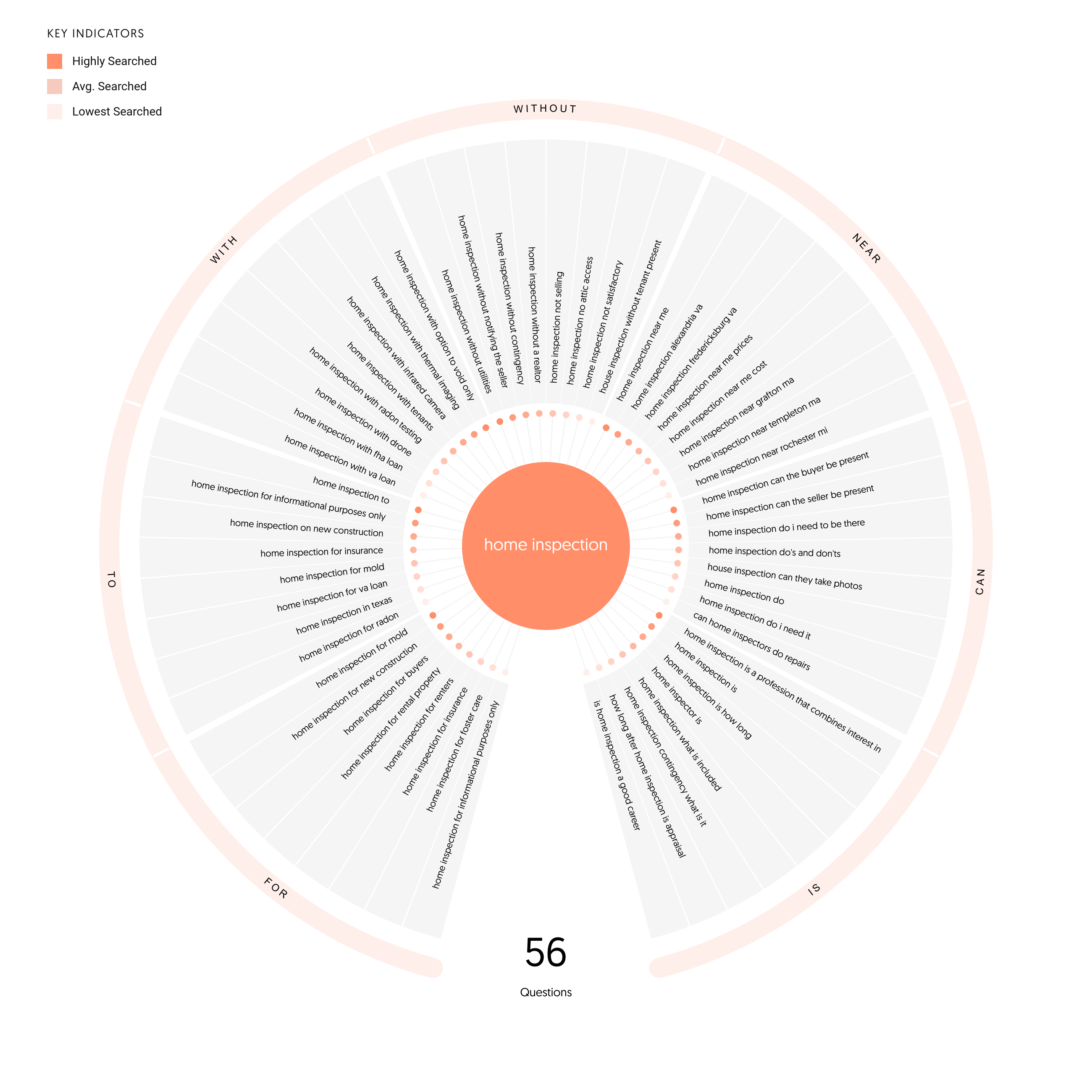 With the free version, you get three searches per day, which is more than enough to come up with a few blog post ideas.
Key Features & Benefits
Visualization of commonly asked questions for a given topic

Questions and keywords related to your topic/query
Honorable Mention
ChatGPT
Have you felt like you've heard about AI nonstop in the past few months? That's largely due to ChatGPT and its potential to revolutionize the world of search.
ChatGPT is not technically a digital marketing tool, but there are lots of ways to use it to improve and speed up the content creation process. It's great for research, content outlines, social media captions, and quick answers that would normally take a bit of effort to write.
Two important notes: the tool only has info up to 2021, so double-check any answers that might not be up to date. Second, Google will evaluate your website based on "human written content" so don't use it to write your blog posts as it could lead to a Google penalty and drop in rankings.