Blogging is hard. But it can be worth it.
Blogging can be equated to farming: it can take trial and error and a few seasons to see your crops grow, but once you start seeing results it can be a game changer.
Is blogging even worth the trouble in 2023?
Most people know that your blog can lead to you being found online, as search engines are likely to place your site higher in search results if you have relevant content. Home inspectors are often discouraged by the thought of a long, uphill battle against websites with thousands of articles.
There is huge value in writing about your local area. Often, Google will show local search results if they're relevant. In the image below, you can see that Google shows Massachusetts-specific results, even though the search doesn't include a state name.
Is that a bit unnerving? Yes. But it also means that if you write about your local city or state, you have a better chance of ranking.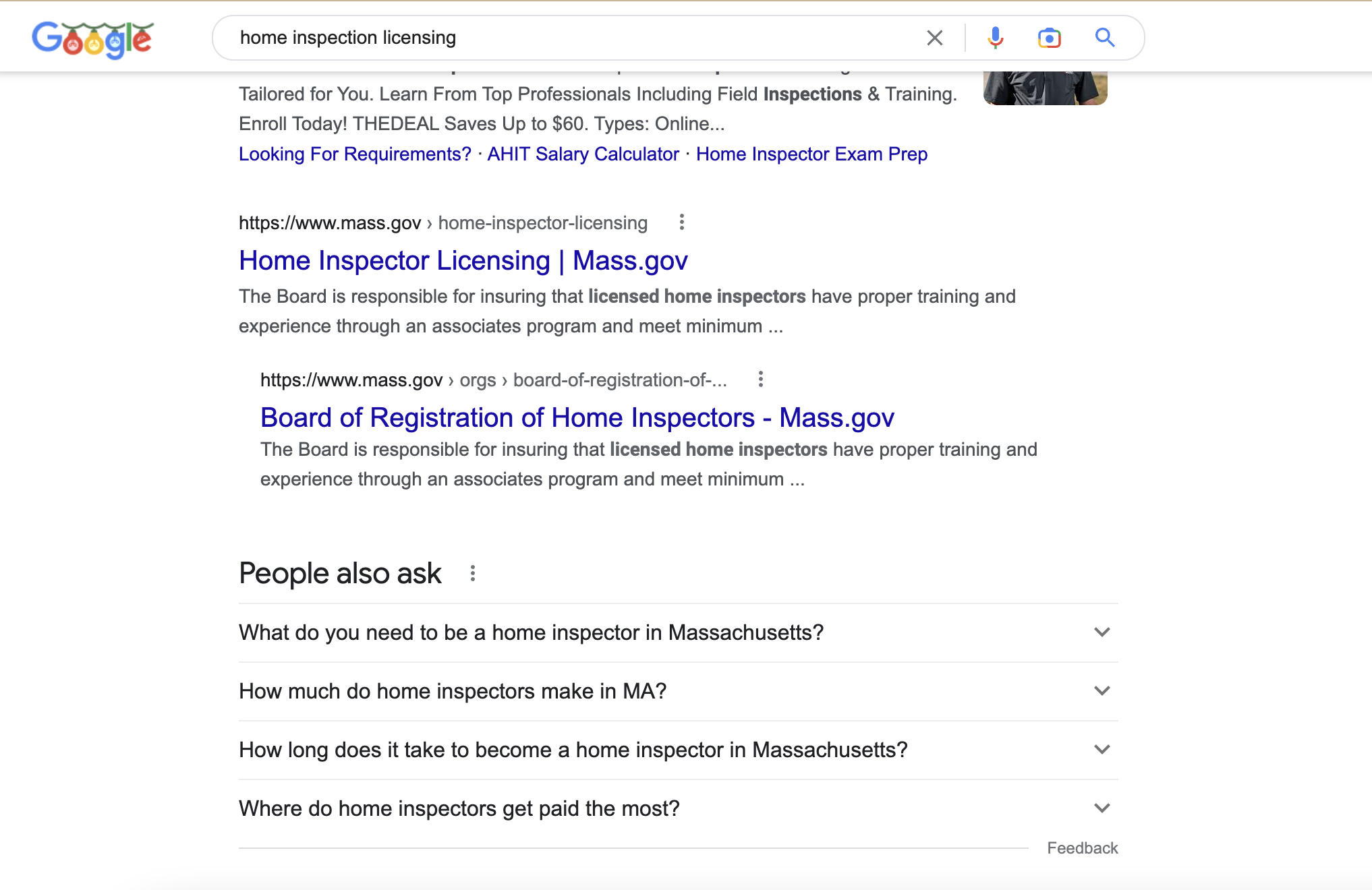 Even if you don't show up on the first page of Google results for a certain keyword, blogs are versatile enough that you can effectively use a blog and have little interest in SEO. Here are a few ways home inspectors might use their blog outside of SEO:
Content for a mailing list
A person's email is a powerful tool, and sending someone a local-specific blog article from time to time helps remind them you're there.
Social Media
A blog post that you write out can easily become the script for a week's worth of social media posts.
Guest posts
You can always write a blog post and then ask a local publication if you can feature it on their website.
Blog Post Ideas for Home Inspectors
Don't know where to start with blogging? We've done the keyword research and seen thousands of successful blogs to give you this list of blog topics to get you started!
What to Expect From Your Home Inspection: How long does it take? What are some common defects? Why is a home inspection important for a buyer?
How to Read a Home Inspection Report: How can homebuyers understand your home inspection report? What items should they pay attention to?
How Long Does a Home Inspection Take?: How long should they expect to be at a house? What factors could cause a longer inspection time (i.e. a home's age or square footage)?

Do I Need to Be There for the Home Inspection?:

Why should a buyer be present at a home inspection? What (if any) are acceptable reasons a buyer would not be present for an inspection?

Can you Fail a Home Inspection?

: Why is there no pass or fail grade for a home inspection? What do buyers need to know about serious defects?

What is Covered in a Home Inspection?

: What will you be looking at in your home inspection? What

Most Common Issues Found on Home Inspections:

What common issues should buyers expect? If there are defects that are especially common in your area, be sure to note these.

What is Not Included in a Home Inspection?:

What will you not look at or evaluate in your inspection?

Home Inspection Tips for Buyers in 2023:

What should homebuyers expect for a home inspection? What should they look for in a home pre-inspection?

Home Inspection Tips for Sellers in 2023

: How should home sellers prepare for a home inspection? How can they prep their home before an inspection?

How Much Does a Home Inspection Cost in 2023?

: How much does a home inspection in your market cost? What can drive up the cost of a home inspection?

What's the Difference Between a Home Inspection and an Appraisal?:

Why would homebuyers/sellers need an inspection and an appraisal? How are the two different?

Do Home Inspectors Need a License?

: Do home inspectors in your state need a license? If not, what type of training and resources are available?

What to Look For When Choosing a Home Inspector:

What are the green flags when choosing a home inspector? What are some red flags to look out for?

What Happens After the Home Inspection?:

What do homebuyers do after getting their inspection report back?

What Are the Most Commonly Missed Items in a Home Inspection?:

What do many home inspectors miss? How do you make sure you're checking all critical aspects of a home?

What Does a Home Inspection Report Look Like?:

How will you deliver the inspection report? What do homebuyers and realtors need to understand about inspection reports?

New Construction Homes: What to Look Out For:

How will new construction differ from older homes? What should new construction buyers be on the lookout for?

What is Radon?:

What is radon and why is it a concern for homebuyers?

Do I Need a Radon Test?:

Should homebuyers in your city get a radon test? How common is radon in your area?

Radon 101: Learn the Basics:

What are the basics of radon testing? How can other inspectors start offering radon inspections?

Do I Need a Mold Test?:

Should homebuyers in your area get a mold test? How common is mold in your city or state?

Should I Get Air Quality Tests Done With my Home Inspection?:

What is an air quality test? Should homebuyers in your city get air quality tests?

Termite Inspections: Know What to Expect:

What is a termite inspection? What does the process look like? How do homebuyers know if they need one?

What is a 4-point Inspection? (Florida):

What is a 4-point inspection and why is it required in Florida?

What is a Wind Mitigation Inspection? (Florida):

What is a wind mitigation inspection and why is it required in Florida?

Dangers Most Homeowners Don't Know About:

What are the most dangerous defects in a home inspection? How can homebuyers and homeowners protect themselves?

5 Home Maintenance Tips for Your New Home:

How can new homeowners keep their property safe and up to date once they move in?

How to Change a Furnace Filter:

Can homeowners change a furnace filter on their own? How (and when) should they change it?

6 Easy Ways to Lower Your Energy Bill

: Tips for how homeowners can become more energy efficient.

Foundation and Drainage Basics:

What should homeowners know about their foundation and drainage? You can write the basics for your city or state.

How to Weatherstrip Your Windows and Doors:

Can homeowners DIY weatherstrip their windows and doors? How?

[Your city] Real Estate Update:

What does the real estate market look like in your city? You can give your opinion, but be sure to include data.

Top Neighborhoods in [your city]:

Use your data to write about the hottest neighborhoods in your city and what homebuyers can expect.

Top Real Estate Agents in [your city]:

Who are the best realtors in your city? Why are they the best?

How Realtors and Home Inspectors Work Together for you:

[your city] Real Estate Outlook for 2023:

Inform people on how your local market is faring throughout a real estate slowdown

(give your opinion with some data).

The Whole Real Estate Process - What to Expect:

What should a homebuyer expect from start to finish throughout the home buying process?

What is a Home Warranty? Do I Need One?:

Do homebuyers need a home warranty? What are the risks if they choose not to get one?

List of Homeowner Resources:

What are the most useful resources for homeowners?

(Link to top home maintenance and design blogs and sites).
As always, remember that these blog articles should showcase you and your business. Otherwise, they're just another generic article that doesn't connect the reader with you.