So you want to become a home inspector.
It's an appealing career path. You'll get to choose your own hours, and you won't spend your days sitting in a cubicle. You can make $200 per hour off of one inspection. While many websites will lead you to believe that becoming a home inspector is easy, the reality is that building a business takes money, time, and energy.
We'll walk you through the basic steps of how to become a home inspector, but keep in mind that becoming a home inspector involves more work than getting a license and a certification.
Step 1. Determine if There's a Market in Your Area
Before you start the process of actually becoming a home inspector, make sure there is a need for more home inspections in your town, city, or county. If your local real estate market is hot, there's a good chance that there might be demand for new home inspectors.
In 2022, housing markets across the U.S. are cooling. If you're going to make it as a new home inspector, you'll at the very least need to be in the right market.
Step 2. Research Licensing Requirements in Your State
Depending on where you live, you might not need a license to become a home inspector. Every state has different licensing requirements and the first step to becoming a home inspector is figuring out what the licensing process looks like in your state.
Is it worth becoming licensed in a state that doesn't require it? Industry experts differ in opinion, but it can be worth it to build trust and credibility with agents and homebuyers alike.

"I'm an advocate for licensing as I feel it best protects the consumer," says KC Bartley, a Tennesse-based Certified Master Inspector. "Obtaining your license at least shows that you passed a background check and completed the minimum coursework and testing required for licensure, in contrast with someone who could simply go to the county and pay a minimum fee to obtain a business license and perform home inspections the following day with absolutely no training."
For state-specific guides check out:
Step 3. Find and Complete a Training Course
Even if it's not required in your state, get certified.
Why? A training course will provide you with Standards of Practice and give you credibility as you get your business off the ground.
Completing a training course is also a great way to learn the business. In unregulated states, taking a training course can even give you an advantage over your uncertified competitors.
Many organizations offer pre-licensing education. The most reputable and well-known is the Instruction Certification Associates (ICA).
If you'd prefer, check out local home inspector schools in your area. Instead of taking an online course, you could get certified there.
Step 4. Get Licensed (If Your State Requires it)
Once you have completed a training course, it's time to get licensed.
Most states that require licenses use the National Home Inspector Exam (NHIE). The test consists of three sections:
Property and Building Inspection/Site Review
Analysis of Findings and Reportings
Professional Responsibilities
In most states, it will cost you $225 to take the examination. In 2022, the average cost of a home inspection is $468, so completing one inspection will pay off the cost of your exam, and then some.
With over 300 testing centers across the U.S. and Canada, testing centers are pretty accessible to all future home inspectors.
Below are the states that required home inspectors to become licensed.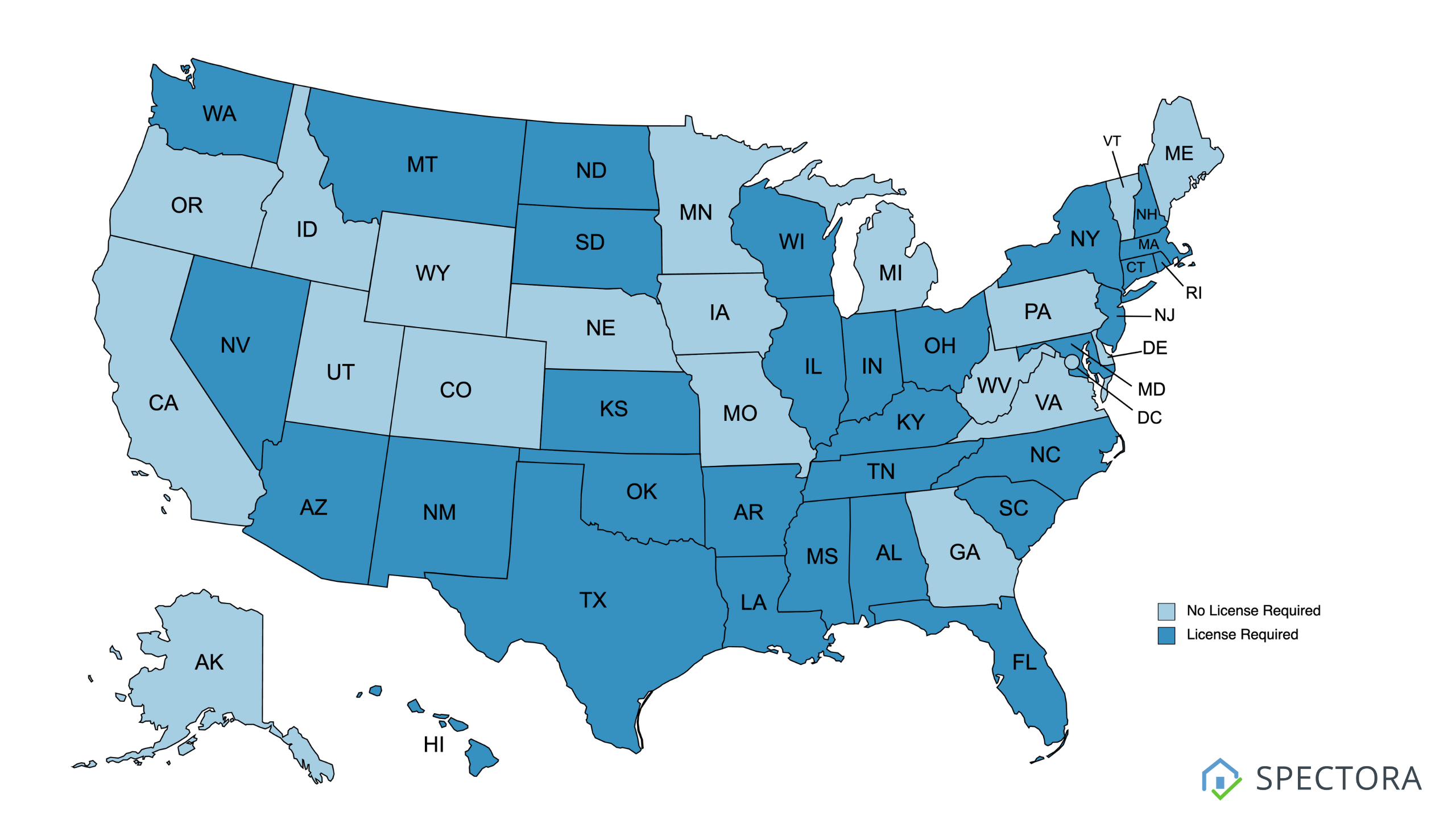 Step 5. Find Your Software
Before you get out in the field, pick a good home inspection software. And get comfortable using it. You can even inspect your own home as practice so you're comfortable with your software and all the tools that come with it.
The most important part of picking software is finding the one that works best for you. But not all software is created equal.
The best home inspection software in 2022 will be customizable so it can work for your specific needs, provide support as you get onboarded, and allow you to write reports on your mobile device and then edit them on your desktop post-inspection.
We're gonna be honest, we recommend...ourselves. Outdated and subpar software won't just slow you down, it'll ultimately cost you money. Spectora is the fastest and easiest to use. And that's not just our opinion. We have an army of happy customers who love Spectora, and our Capterra reviews put us at the top of the market. That said, there are many options out there to explore and it's important to find the one that best fits your needs.
Many software providers offer a free trial so you can test your software before committing any money upfront.
Step 6. Get Insurance
If you're starting as an independent home inspector with your own business, you'll need to get insurance. General liability (GL) insurance provides coverage if you damage something in the house you're inspecting or injure yourself on the job.
Errors and omissions (E&O) insurance covers you and your business if a homeowner claims that you made a serious error or oversight in your inspection and tries to take legal action against you.
With both GL and E&O insurance, you'll have all your bases covered. No one likes to think about things going wrong, but it's important to be prepared in case they do.
Step 7. Market Your Business
This is where it gets more complicated.
Once you're licensed, you're technically a home inspector—but you need to actually do home inspections to make it in the industry. And it all comes down to marketing.
You'll need to build a website and establish a good social media presence to market your business. Even more important is creating relationships with real estate agents and contractors in your area. If you can get business through online marketing and by word of mouth, you'll be set for success.
Step 8. Grow Beyond Home Inspection
The real estate market has its ups and downs. The good news is, many home inspectors offer services beyond a residential home inspection—it's a great way to set yourself apart from other home inspectors in the business and it can give you income to rely on when home sales are low.
Getting certified to do radon testing, wood destroying organisms (WDO) inspections, mold inspection, wind mitigation inspection, and commercial inspection (just to name a few) are all ways in which home inspectors can go above and beyond to ensure steady business.
Frequently Asked Questions
What's the most pay a home inspector makes?
Spectora data shows that the average independent home inspector earned about $46,500 per year in their first two years of business. As you gain experience, you can expect a higher salary. The average salary of a home inspector with 3-5 years of experience is closer to $61,500.
With the cost of a home inspection averaging $468 in 2022, a home inspector with a successful business can easily make upwards of $200 per hour.
How long does it take to become a home inspector?
Because there's no national standard of certification, how long it takes you to become a home inspector will vary from state to state. Some states (like Texas and New York) require upwards of 100 hours of coursework and you'll have to perform supervised inspections before you get your license.

In states that don't require a license, you could become a home inspector almost immediately, in theory. But it takes time to build and register a business and there's more to consider beyond licensing.
How do I succeed as a home inspector?
While there's no one formula to success, it's important to realize that becoming a home inspector isn't just about how well you can inspect a home. On top of technical skills, successful inspectors are skilled at marketing their business, building and maintaining good relationships with clients and real estate agents, and delivering clear, easily readable reports.
You can also join an inspector association like the International Association of Certified Home Inspectors (InterNACHI). Joining an association will give you a network of inspectors, a Standard of Practice to follow, and industry knowledge and resources that will help you stay up to date with everything in the home inspection industry.
How should I price my home inspections?
Determining how to price your home inspections is never easy, but we have some insight. Here's our data that shows the average inspection quote in every zip code, so you can get an idea of how inspectors in your city price their services.