Wondering how to become a home inspector in Florida? Unlike many other states, Florida regulates its home inspectors. They're required to go through a vetting and training process and stay in good standing. We've compiled a full guide, complete with links and a video walkthrough. You're gonna want to bookmark this page because it has everything you need, including some special offers.
Terms to Know:
DBPR: The Florida Department of Business and Professional Regulation. This is the government agency you'll be interacting with to get your license.
InterNACHI: The International Association of Certified Home Inspectors. InterNACHI is the largest home inspector association in the country. Being a member isn't required, but it's generally considered a mark of legitimacy in the community. They offer training, certifications, and discounts on software and equipment.
Spectora: In case you didn't notice, you're on our website! Spectora provides the best home inspection software in the industry, which is pretty handy because you'll need software once you get your license. Although we're biased, none of the information in this article requires you to be a Spectora user.
Take 120 hours of coursework
You need to take 120 hours of classes, which are broken into several smaller courses with a test at the end of each. The courses are required by the DBPR, but you can take them from almost anywhere. There are 30 approved course providers offering either online, in-person, or hybrid courses. The coursework covers the eight essential components of a home.
If you want a recommendation, ICA is widely considered the most reputable training association, and they offer training for Florida inspectors.
Pass the state licensing exam
Like the coursework, you take the state exam from an approved provider. Unlike the coursework, there are only four approved providers. Here is the complete list. InterNACHI has a free one-page study guide for non-members. For members, they have an online practice test. The test is known to be difficult. There are 120 questions broken into 14 sections. You must pass each individual section (50% or higher) and you need an overall score of 80% to pass. You have one hour to complete the exam. The exam fee is $125. It must be taken in person with a proctor. You can use their computer and get your results immediately. If you do not pass it you can take it again but will pay a fee each time. The questions will be randomized each time. Some new questions may appear on repeated attempts.
Once you pass your exam (woohoo!) submit proof to DBPR and then apply for your actual license here. The fee is $230 dollars.
Get fingerprinted and pass a background check
You can do both of these at the same time. Florida has a FAQ sheet with the details here. The state recommends you do this at least five days before you apply for your actual license. Your fingerprints can be taken from an approved provider, here is a list of all the providers in the state. They are not organized in any particular order so search for your local area code. When you get fingerprinted, you'll give your provider something called an "ORI code" so that they can send it to the correct agency for your background check. The ORI code for home inspectors is FL 924250Z. Fees vary, but we contacted one provider whose fee is $67.
Start your business and get insurance
If you plan to go into business for yourself, you'll want to check with your County Tax Collector to see if you need a license. Register your business with the Department of Revenue. Then, everybody's favorite part, register with the IRS. Keep the good times going by getting insurance for your business, it's required by law. If you're an InterNACHI member, they have an insurance partner that you can use for a small discount.
OR get hired by another home inspector
There are many well-established multi-inspector companies in Florida looking for licensed inspectors. You can get valuable experience and skip the process of marketing and building your business. While you may not make as much money, you'll likely get a steady stream of inspections coming immediately. Here is a list of home inspectors in your area with contact info. Check and see if any are hiring.
Build a website
At a bare minimum, you'll need a quality website to serve as the virtual storefront for your business. The vast majority of your referrals will either find you or search for your website after hearing about you. They will be looking for a professional website that reassures them you're a legitimate business and not a "fly by night" home inspector. You'll also want an online scheduler so that you don't risk losing a customer that calls when you're not available or doesn't call at all. An embedded scheduling tool ensures that they can easily book an appointment then and there.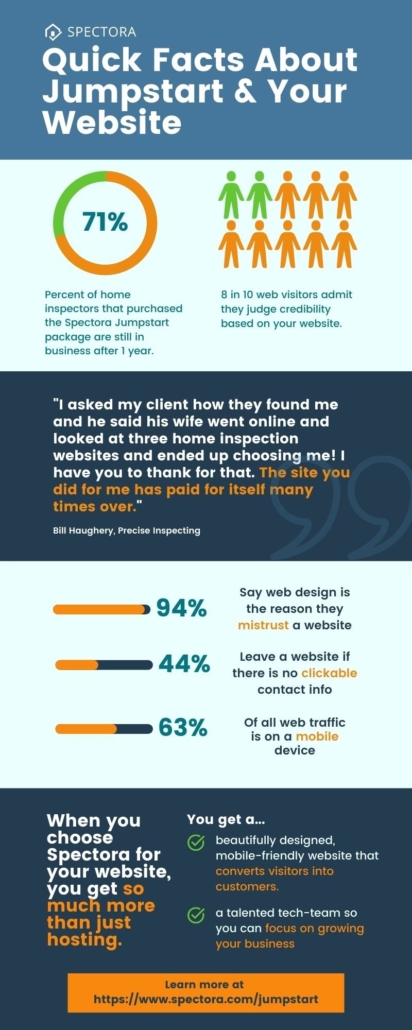 If you want to see some examples of excellent home inspector websites, check out some of our user's sites we've made.
Find home inspection/scheduling software
There are options out there, but why pretend? We recommend Spectora. But more importantly, more than 6,000 home inspectors do too. Our users love our software because it makes them money and saves them time with faster report writing, top-level client support, and powerful automation of repetitive tasks. We offer a free trial, and hundreds of free report templates (including 4-Point and wind mitigation templates, which you'll likely need in Florida). We can even bundle a year of the app with a custom website. It's the best deal in the industry.
How long should all this take?
If you're not working, you can probably knock out the training in a couple of weeks online, maybe a single week, but you shouldn't rush.
After that, you can schedule your test with a proctor. You can start your fingerprint and background check at any time, even before you pass the exam. Same with your business license and tax information.
Florida DBPR doesn't indicate anywhere the amount of time they take to process your background check, but 3-5 days seems to be the industry standard.
All in all, getting licensed in a month or less seems very doable. It may take longer to get your company licensed and ready to do business.
How much should it all cost?
Let's start with the known costs and then do some speculation on the rest. If you want to take a deeper dive into the potential startup costs of home inspectors, here's a great article to check out.
120-hour Coursework $1899
Florida License Exam $125
Florida License $230
Fingerprinting $67
Business License ~$100
Insurance Monthly
Website ~$1500
Home Inspection Software Monthly
TOTAL (LICENSE ONLY) $2321
TOTAL (LICENSE + STARTUP COSTS) ~$3821
Important to note that the cost of websites and home inspection software can vary greatly. But in both cases, you'll get what you pay for. Websites can be built quickly at low cost using build-your-own tools like Squarespace. But it's worth getting your site right on the first try. Agents and clients can spot homemade websites and may look elsewhere.
Home inspection software can also be found at a very low cost. But even more than websites, choosing bad software to run your business can be catastrophic. Here's a good checklist of what features to look for when choosing home inspection software.
Related: Top Florida Markets